Welcome to 3D Studio Max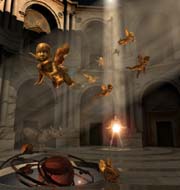 by Gary
As an Architectural Designer, I have found these sites quite helpful for added meshes and textures and for helping to advance my 3D skills. I hope they will help you too.

Hit's since 10/24/97

  Visit: "Christian Links for Christian Living" - my homepage dedicated to helping others.
Take a look at a Panoramic and an Animation created with 3D Studio Viz
  Also Visit: "Autocad By Gary".
  Here is a page where I keep animated gifs, give it time to post.


 How I Did It:
I used a combination of Autocad with Softdesk to create the basic building, using extruded solids and the roof generator program, then I imported it into 3D Studio Max and added the textures and rendered it with an existing site background. Then I saved the rendering to a .jpg format and opened it up in Photoshop to touch up the photo.


3D Mesh Sites
Block of the Month - Texture of the Week
CGW Cool Connections 3D Models
Complete Support for 3d Studio Max - this site has tutorials - sign up for a free 7-day trial
Kinetix 3D Site - the creators of 3D Studio Max

Texture Libraries

Sites that sell 3D Studio Max Products
Cad Crafts - 3D Store - a great place to purchase plug-ins
Crystal Graphics - this site sell 3D Studio Max
Digimation - this site sells 3D Studio Max
Graphic Dimensions - this site sells 3D Studio Max 

If you have any comments or questions, please email me at gary@designsbyglm.com

All Rights Reserved® Copyright 2000©